From Global Automation and Identification Group, this is New & Notable for Tuesday, May 5th, 2020.
New & Notable is a weekly series covering the news, announcements, and product highlights of our solutions partners, as well as other companies with something new and interesting to share. Our focus is on vision, inspection, and automation solutions for the automotive, aerospace, electronics, medical, and consumer packaging industries.
To subscribe to New & Notable, visit GlobalAutoID.com. Follow us on Twitter at GlobalAutoID, and on LinkedIn by visiting GlobalAutoID.com/linkedin.
This week, we are highlighting our solutions partner, CCS America, and their parent entity, CCS, followed by some brief notes from other companies.
---
CCS is the global leader in LED lighting solutions for machine vision applications. With over 15 locations worldwide, the largest selection of standard products in the industry, and complete semi-custom and custom capability, CCS has the resources to help you find the right lighting solution. Their expert staff, with unmatched industry experience in lighting, imaging, and machine vision, can help you address any application from the simplest to the most challenging. Their extensive technical support includes evaluation products, application testing, workshops/seminars and consulting services.
---
CCS lighting products are designed together with customers, in response to their needs. They provide consultation services based on highly qualified lighting solutions and experience from more than 50,000 applications evaluated and 10,000 custom designs. Applications include:
Automotive

Metal

Cans

Packaging

Electronics

Pharmaceuticals, and

Food

Semi- Conductors

Glasses & Bottles
---
CCS manufactures and/or distributes for several product lines in order to fulfill as many lighting needs as possible for its customers.
The CCS standard product line is the industry's widest range of precision lighting, covering area, linescan, and specialized illumination. CCS offers over 2,435 products for machine vision/inspection applications and continuously develops new products to suit the needs of their customers. This includes Intelligent Lighting with consistent intensity and Industry 4.0 compatibility. Also available are LED lights and controllers for specialized business fields such as microscopy, art galleries & museums, medicine, and agribiotech.
The QL3 Series is an OEM line of lighting that is ideal for a wide variety of machine vision and inspection applications. These products are exclusively available through CCS's OEM partners.
CCS subsidiary, CCS America, is the master distributor for Gardasoft products in North America. CCS America offers the full line of Gardasoft high performance LED lighting controllers. These controllers add value to many machine vision systems with features such as intensity control and overdriving, multiple channels, Safe Sense/Safe Power protection, and Ethernet connectivity.
And, CCS is a distributor for EFFILUX. The EFFILUX product lineup offers many new and complementary solutions. These plug-and-play lights are ideal for a wide range of machine vision lighting applications, including large illumination areas. Key benefits include flexibility, easy product selection, and outstanding price-performance.
---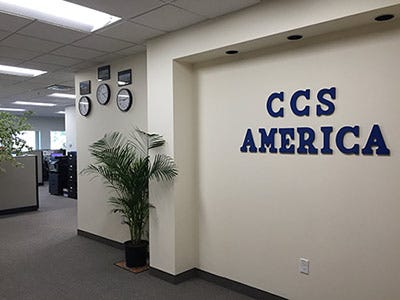 Since 1999, CCS America has helped thousands of customers identify the best lighting solution for their machine vision applications. They offer high quality products and advanced lighting technologies, and are continually developing new lighting systems that will meet a diverse range of needs.
CCS America's free loaner program gives customers a chance to test their products before purchase. They have hundreds of lights in a variety of models available for a 30-day trial period.
At CCS America, they are committed to providing their customers with prompt, high quality service and technical support. They have staff experienced in lighting, optics, and all aspects of machine vision imaging. CCS America's offices in Burlington, El Paso, San Jose, and Detroit are equipped with a testing laboratory for application testing, lighting recommendations, and technical support.
From the simplest to the most challenging applications, let CCS America show you how to optimize your imaging system with no charge, no obligation lab testing. Using CCS products, they show possible lighting solutions for a customer's machine vision application.
CCS America provides its business partners with regular product training sessions, lighting seminars, and technical support.
And, while CCS and CCS America has the largest selection of standard products in the industry, when they don't have one that fits your needs, they offer custom and semi-custom lighting solutions. They can leverage their large database of existing designs to provide you with the optimal solution for your application.
---
To learn more about CCS and CCS America, visit GlobalAutoID.com/CCS.
---
Now, some quick notes from other automation, inspection, and vision systems companies. For all referenced links and materials, visit GlobalAutoID.com.
---
Cognex has released an online demo of the DataMan 262. The short presentation covers the product's high read rates, simple installation in tight spaces, easy-to-use tune and trigger buttons, and optimal image formation for any code.
When reliable traceability is essential, Leuze is here to support you with their various identification technologies. They want to hear about your application. Connect with Leuze through GlobalAutoID.
Automated Medication Packaging, meet the zero-miss safety inspector. Ziuz Medical is the solution for automated medication dispensing that requires exacting performance, and it relies on Code Corporation and the CortexDecoder.
---
This has been New & Notable for May 5th. Be sure to return next week for news and highlights from our solutions partners and other companies.
To subscribe to New & Notable, visit GlobalAutoID.com. Follow us on Twitter at GlobalAutoID, and on LinkedIn by visiting GlobalAutoID.com/linkedin.
New & Notable is produced and presented by James D Kirk for Global Automation & Identification Group. Thank you for your time and attention, be well, and have a successful week.